We've created a next-level content production service that provides our clients with highly informative, relevant, professionally-written content for anchor text and link placement. Our content production team does all the work for you—so you don't have to.
Gone are the days of formulating your own ideas, scrambling for writers and handling the tedious editing and approval process. All we need is a few details about what you want us to link to, and we'll get to work creating custom content to fit your needs.
What's included?
All of this custom content is published on one of our websites, so rest assured that our blog writing service is of the highest quality. Here's what would be included in your purchase:
High-quality, professional content
Opportunity for one client revision
Clean HTML formatting
Two authority images
One high-resolution header image
HOW IT WORKS
STEP ONE – Order Info
When making your order (see image below)…
1. select the option to include custom writing.
2. Provide us with the link(s) and anchor text that you would like us to use
3. Include any additional information you'd like us to know.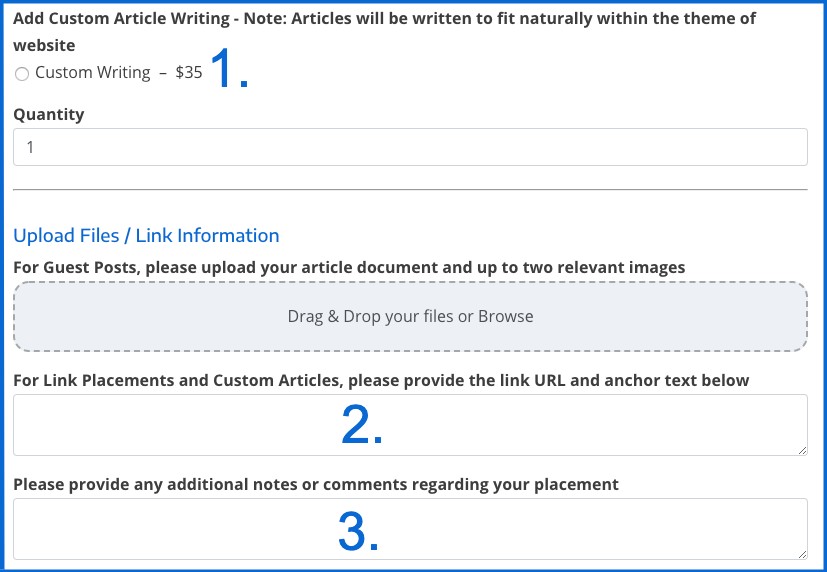 PLEASE NOTE: We will write your article in a way that will make it fit naturally with the theme of the site you are ordering from. If you want to have your article written on a specific topic, there may be an upcharge beyond the $35 writing fee to account for the additional research time required to write your article. Please contact us to discuss this before ordering.
STEP TWO – Content Creation
Our team of expert writers will prepare a relevant sports-related article with your anchor text organically worked into the body of the article. They'll also optimize it with proper formatting, an SEO-friendly headline, internal links, external links and more.
STEP THREE – Content Approval
After we finish writing the article, you have the opportunity to approve it before the order is published. You get one round of edits, but 95%+ are approved the first time!
STEP FOUR – Publishing
Once approved, we'll publish your article on the site you requested, and then put you in touch with our billing department to wrap things up.